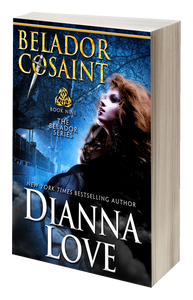 Belador Cosaint: Belador book 9
Regular price $13.99 $11.99 Sale
"I am always amazed how Dianna Love always gives us another sensational story that flawlessly continues the flow of this series." The Reading Café
Belador Maistir, Vladimir Quinn, has yet to locate his daughter and now his worst fears have come to fruition. A vicious enemy hot on her trail plans to turn his child into an apocalyptic weapon. Quinn doesn't even know what the young girl looks like or where her deceased mother hid her. He knows of only one woman—a remote viewer—who might be able to help, but Reese O' Rinn has vanished into thin air, literally. Quinn has even less chance of finding that fiery female and no time to search for her.
A powerful entity is determined to push the Belador dragon king, Daegan, and the entire preternatural world into the open, starting with the city of Atlanta. Chaos sends Quinn and all the Beladors running hard around the clock. When their innocent families come under attack and the VIPER coalition refuses to send aid, Daegan invokes the ancient rule of cosaint to protect his people, but will that backfire on him and the Beladors?
Alliances are tested. Secrets are exposed. Battle lines are drawn in blood. It all comes down to who lives and who dies as Quinn faces an unimaginable sacrifice to save his child.
NEW - CLICK HERE to be notified when a special deal is available on e-books or signed print books, and when preorders are available on Dianna's newest books. 
Details:
Trade paper size (6x9)
(Signed products can't be returned. If you receive a damaged package, please take a photo immediately and contact us at silverhawkinfo@gmail.com.)