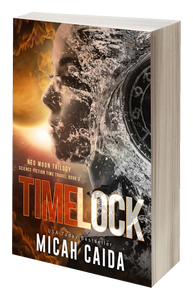 Time Lock: Red Moon science fiction, time travel trilogy: book 3
Regular price $13.99 $11.99 Sale
USA Today Micah Caida concludes the Red Moon science fiction, time travel trilogy with Time Lock, packed with twists to the most unexpected ending. 
His duty. Her destiny. Their last hope.
The highly anticipated final journey in the Red Moon trilogy is here. Every minute counts—literally—as Rayen races against impossible odds to deliver a one-of-a-kind computer to the sphere, but she's locked up in Albuquerque. Failure means Callan's death at the hands of his enemies. As each ominous detail of the Damien Prophecy unfolds in real time, Rayen battles to help her friends escape, even as she accepts her life will be forfeit. Her ultimate decision as the red moon sets triggers a collision course of two worlds over a hundred years apart.
NEW - CLICK HERE to be notified when a special deal is available on e-books or signed print books, and when preorders are available on Dianna's newest books. 
"I have never read a book that was anything like this one before. It felt completely unique to me, which I loved!" Feed Your Fiction Addiction
"If I had found books like this when I was a teen, I would have started reading much earlier, instead of waiting until my mid-twenties!" ~~ Kay Barnes, adult
"The story comes to an end with twists an turns galore! The betrayals run deeper than expected and the "fix" is not as obvious as it seems." Amazon
"Time Lock is young adult science fiction at its best." The Reading Cafe
This series has been enjoyed by all ages of readers from teens to adults. It's a great action series for anyone capable of reading the Hunger Games trilogy.  
Details:
Trade paper size (6x9)
Read excerpt here.