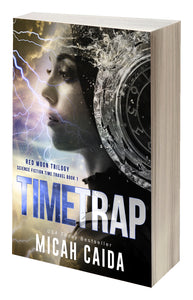 Time Trap: Red Moon science fiction, time travel trilogy: book 1
Regular price $13.99 $11.99 Sale
In book one of this unusual science fiction, time travel trilogy, USA Today Bestseller Micah Caida delivers an other-worldly thriller with an explosive finish.
Rayen wakes up in a strange place called Albuquerque with no memory of how she landed in a desert where she's captured. While the authorities search for a way to identify her, she's sent to an unusual institution where she quickly realizes she's in an unfamiliar world. When a power inside her manifests unexpectedly, she opens a portal, sending her and two unlikely sidekicks to a place harboring a deadly secret that can destroy this world … and the future. All she wants is to regain her memory and go home. The only person who can help her is an elite fighter of the future, who is trapped in a fantastical world where killing the enemy and surviving is all that matters. With one impulsive action to save a child, she proves she's his enemy. 
 A breathtaking debut trilogy where Isaac Asimov meets Hunger Games.
NEW - CLICK HERE to be notified when a special deal is available on e-books or signed print books, and when preorders are available on Dianna's newest books. 
"The imagination of Micah Caida takes the reader on an exhilarating journey...TIME TRAP is originality at its best." ~~Amelia Richard, SingleTitles
"Time Trap is amazingly original and unexpected... I love every second of reading it." Alexandra F, 15 years old
"If I had found books like this when I was a teen, I would have started reading much earlier, instead of waiting until my mid twenties!" Kay Barnes, adult
This series has been enjoyed by all ages of readers from 11 to adults. It's a great action series for anyone capable of reading the Hunger Games trilogy.
Details:
Trade paper size (6x9)
Read excerpt here.