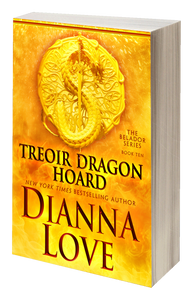 Treoir Dragon Hoard: Belador Book 10
Regular price $13.99 $11.99 Sale
"This is the best series I have ever read past a 3 book series." Goodreads
While investigating unusual supernatural activity, Belador Alterant Evalle Kincaid suspects a threat stalking her, but unwittingly races into a trap to save a friend. She ends up facing the impossible—she must fight her dragon king to the death, and win, or condemn everyone she loves to die. Her Skinwalker mate, Storm, is an unmatched preternatural tracker, but even he can't follow her trail.
Daegan's inner circle is under attack, but he has no clear enemy to confront. As the Treoir Dragon King, how can he protect his Beladors and allies when his presence is the very reason they're at risk? VIPER is no help as they blame Evalle and the Beladors for exposing humans to preternatural existence all over Atlanta.
Two thousand years ago, someone stole the king's treasure that Daegan's father had accumulated for his children. Now, an unforeseen enemy uses this hoard to set Daegan on a path to his ultimate demise if he follows the trail left for him, but he will stop at nothing to protect his people and Storm will destroy anyone who stands between him and finding Evalle.
Blood is going to run … but whose?
NEW - CLICK HERE to be notified when a special deal is available on e-books or signed print books, and when preorders are available on Dianna's newest books. 
Details:

Trade paper size (6x9)
(Signed products can't be returned. If you receive a damaged package, please take a photo immediately and contact us at silverhawkinfo@gmail.com.)