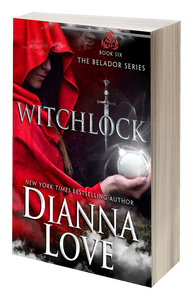 Witchlock: Belador book 6
Regular price $13.99 $11.99 Sale
Witchlock vanished in the 13th century ... or did it? 
If Atlanta falls, Witchlock will sweep the country in a bloodbath.
After finally earning her place among the Beladors, Evalle is navigating the ups and downs of her new life with Storm when she's sucked into a power play between her Belador tribe and the Medb coven. Both groups claim possession of the Alterants-turned-gryphons, especially Evalle, the gryphon leader. But an influx of demons and dark witches into Atlanta threatens to unleash war between covens, pitting allies against each other as a legendary majik known as Witchlock invades the city and attacks powerful beings. Evalle has one hope for stopping the invasion, but the cost may be her sanity and having to choose which friend to save.
"This book is awesome. I loved how all of the books just flow together. I could not put this book down. Way to go Miss Dianna Love, you are one of my favorite authors and that includes the AG herself, Sherrilyn Kenyon." ~~Helen Grindstaff, Goodreads 
NEW - CLICK HERE to be notified when a special deal is available on e-books or signed print books, and when preorders are available on Dianna's newest books. 
Details:
Trade paper size (6x9)
Read excerpt here.
(Signed products can't be returned. If you receive a damaged package, please take a photo immediately and contact us at silverhawkinfo@gmail.com.)