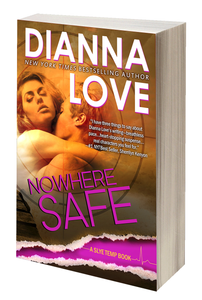 Nowhere Safe: Slye Temp book 1
Regular price $13.99 $11.99 Sale
Dive into New York Times Bestseller Dianna Love's "completed" Slye Temp series, perfect for binge reading.  
Josh Carrington can't forget the woman who paid the ultimate price during a mission.  He vows he'll never get involved with a woman during a mission again. 
A blown CIA operation in the UK destroyed an elite mercenary black ops unit two years ago. Surviving members disappeared to heal their wounds, and have now resurfaced as part of Slye Temp, an agency contracting security work with corporate America.
At least, that's what goes on above ground... 
Slye Temp agent Josh Carrington should have died during the blown UK mission, but he didn't.  Scars fade and nightmares can be managed, but tthe image of the UK female operative bleeding out in his arms sears his mind when he closes his eyes. Now he sticks to Personal Rule Number One: Never mix business with pleasure. 
Slye Temp sends Josh to uncover a leak in a DEA task force...a mole in league with the traitor who betrayed the UK team. A deadly shipment is bound for the US and nothing will stop Josh from taking down this mole, blocking the shipment, and nabbing the traitor. Not even Trish Jackson, hardheaded sister of his #1 DEA suspect. 
 A faceless stalker has turned Trish's life into a living nightmare and threatens to kill anyone who helps her, including Josh, the new man on her brother's task force who has planted both unwelcome feet in the middle of her world and refuses to leave. The closer Josh gets to the twisted truth, the more he struggles to keep Trish out of harm's way--and his bed--but the sultry firecracker gets under his skin like no other woman, forcing him to question everything, starting with Rule Number One. 
"Blending taut pacing with sizzling tension, a little bit of James Bond with an engaging personal drama, this is a story for suspense fans and romance readers alike." ~~The Romance Reviews
NEW - You can CLICK HERE TO SIGN UP to be notified when Dianna's print preorders are available (her preordered print books are shipped 2+ weeks ahead of the official ebook & audio release date).
Details:
Trade paper size (6x9)
Read excerpt here.
(Signed products can't be returned. If you receive a damaged package, please take a photo immediately and contact us at silverhawkinfo@gmail.com.)