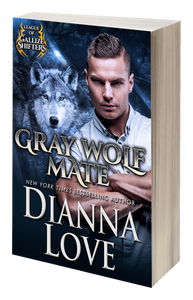 Gray Wolf Mate: League Of Gallize Shifters
Regular price $11.99 Sale
"New York Times Bestseller Dianna Love has crafted a unique new paranormal romance series of stand-alone stories in a complex world."
Shifters came out eight years ago and, since then, the world has never been the same for many.

In this second chance paranormal romance, Tess Janver and Cole Cavanaugh fell deeply in love in college ... then he disappeared without a word. She feared the worst, or thought she had.
After seven years, he returns as a beefed up version of his former self. That's not the only thing different. As someone working in a preternatural criminal investigation unit and the daughter of a senator determined to rid the world of dangerous shifters, Tess is caught between performing her duty to humans, protecting the only family she has left and risking her heart to a man who once destroyed it.
Cole had no choice in becoming a Gallize shifter and now faces a deadline from a fatal mating curse he can't stop. The only woman he's ever loved is human and won't survive bonding with his power. He never planned on Tess finding out he was a wolf shifter, but she's in danger from a rogue pack. He's not leaving this world until she's safe ... and while he has a chance to redeem himself in her eyes before his time is up.
"GRAY WOLF MATE is a truly ground-breaking paranormal romance. Ms. Love is a writer who can conceive an innovative idea, and then cleverly bring it to life for readers to enjoy." Always Reviewing
NEW - CLICK HERE to be notified when a special deal is available on e-books or signed print books, and when preorders are available on Dianna's newest books. 
Details:
Trade paper size (6x9)
Read excerpt here.
(Signed products can't be returned. If you receive a damaged package, please take a photo immediately and contact us at silverhawkinfo@gmail.com.)