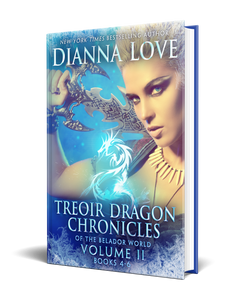 Treoir Dragon Chronicles of the Belador World: Volume II, Books 4-6
Regular price $38.99 $33.99 Sale
New York Times Bestseller Dianna Love's explosive new series in the Belador™ world continues with unexpected twists. 
In TÅμr Medb's library, Casidhe discovers she doesn't know Daegan at all and her only hope of escape lies with gaining Queen Maeve's trust. While Daegan battles to survive a satyr attack, a preternatural being offers him a chance to live, but at a price only a dying man would take. Reese is blindsided by the one person she thought she could depend upon at her worst moment. Brynhild enjoys her freedom until her dragon lands in the crosshairs of human military weapons. Atlanta is overrun by demons being created by an unknown supernatural with a hidden agenda and Daegan's time to save three Beladors facing execution by a VIPER Tribunal runs out.
The world has learned supernaturals exist. Some humans are curious about these beings, some are terrified, and others are mounting forces to wipe them out.

Available now to be shipped signed and personalized (if desired). 
INTERNATIONAL FANS (or anyone) - If you'd like to purchase the book locally to avoid expensive shipping, you can get signed bookmarks & book plates for all 3 hardbacks here.
"...the world very cleverly created by Dianna Love, the first installment in the TREOIR DRAGON CHRONICLES will capture your every thought and leave you begging for the next story." ~~Always Reviewing
"Excellent storytelling that is as breathtaking as it is enchanting!"~~Clare and Lou's Mad About Books
"I'm addicted to this new world and it just started."~~Amazon Reviewer
NEW - CLICK HERE to be notified when each of these 3 Treoir Dragon Chronicle hardbacks are available for preorder as well as special deals just for Dianna's readers. 
Details:
Hardback Volume II of Books 4-6
Shipped with signed bookmark and sticker designed just for this release.
(Signed products can't be returned. If you receive a damaged package, please take a photo immediately and contact us at silverhawkinfo@gmail.com. NOTE: Hardbacks are shipped in extra-heavy boxes to avoid crushing.)